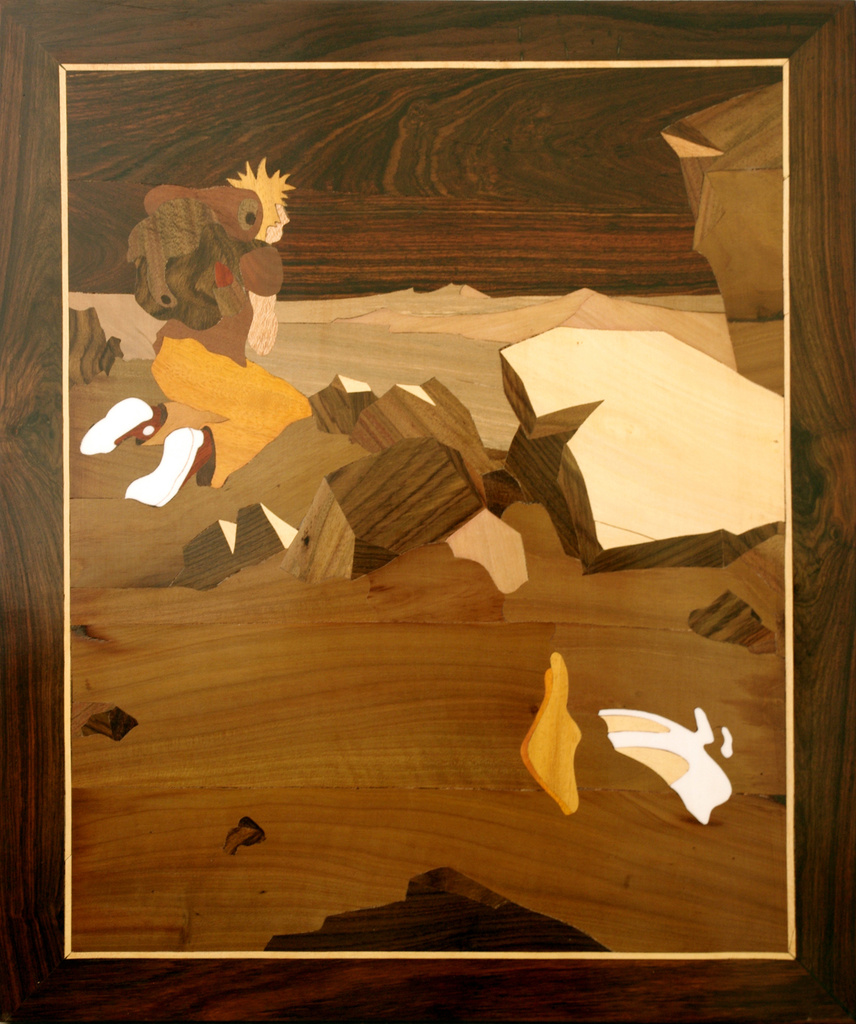 Henrik Schrat
Donald's Grave, 2009
Wood inlay
49 × 59cm


–


Henrik Schrat | Report on Probability B
21 September – 21 October 2012
The one-eyed aliens came down to earth, dug out Modernism, and showed it as a picture story in a melancholic chamber…
Henrik Schrat's Report on Probability B is a revisiting of Modernism under the aegis of a Science Fiction narrative. The exhibition adopted the classic premise in Science Fiction of reality as only one probable version, a version that potentially exists beside many other versions. Brian Aldiss' Report on Probability A (1968) is perhaps one of the most pure and iconic accounts of this premise: a claustrophobic tale of 'watchers' observing reality upon reality, observation upon observation. Utopian versions of the future were part of Modernism as part of a belief in technical solutions to problems. If Modernism is not seen as a period with its own questionable destination but as part of a development, as Jaques Ranciere would see it, it becomes another Probability: a Probability B.
Report on Probability B saw IMT Gallery 'transferred' into a kind of museum displaying artefacts of a 'Space Odyssee'. These artefacts narrate a story about a journey to the stars amidst scattered 'Remnants of Modernism'; an earthling discovers the One-Eyed Tribe in outer space; Donald Duck is buried in the star-sand; Frank Lloyd Wright's House of Fallingwater, the water gone, a one-eyed alien is scratching in the sediment…
Henrik Schrat [born 1968, Greiz/Thüringen, Germany] studied an MA at the Slade School of Fine Art, London and a Doctorate at the Business School of the University of Essex on the theme of the comic and its potential as visual display of organisations. He has exhibited extensively in Germany and abroad including the Forum Ludwig for International Art, Aachen; Museum Junge Kunst, Frankfurt (Oder); Van der Heydt Museum, Wuppertal; Eastside Projects, Birmingham; Wolverhampton Art Gallery, Wolverhampton; BankART 1929, Yokohama and at MOCCA – Museum of Contemporary Canadian Art, Toronto. Schrat's work has focused on site-specific narrative murals and drawing work with the comic as multi-use format. His latest visual narratives have extended to wood inlay work, confronting the slow traditional technique with comic style and contemporary content. Schrat lives and works in Berlin.
To accompany Report on Probability B, the gallery hosted the interactive event Probably Ping Pong on the 22nd of September, through which Schrat and collaborators produced a one-day comic strip. Schrat likened the process to a live Jazz jam session in which visitors are invited to participate by creating their own part of the narrative.
According to Schrat, "every page will begin with Ping Pong, the main character, awaking and end with him falling asleep. Every page follows the narrative of the preceding one in some sense, yet Ping Pong always awakens to another reality – finding himself drawn and handled by someone else. This references the mulitiple realities observing each other from the source material of the exhibition's title: Brian Aldiss' 1969 science fiction novel Report on Probability A."
To complete the circle, a bound copy of the exploits of Ping Pong was sent to Aldiss.