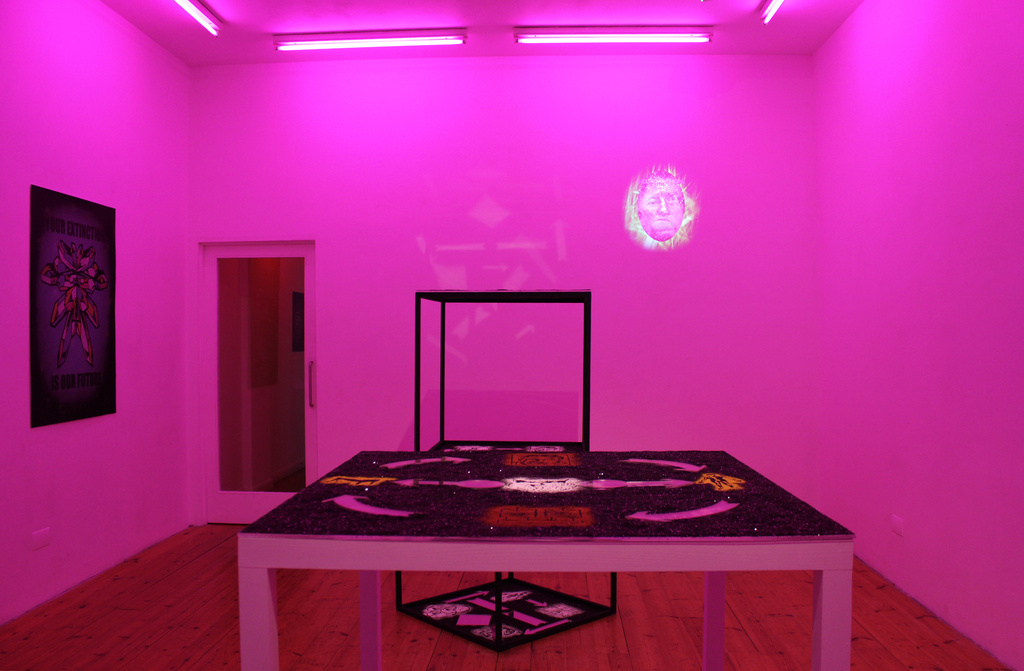 Plastique Fantastique
Installation view of YOUR EXTINCTION OUR FUTURE!, 2013
Mixed media installation with sound


–


Plastique Fantastique | YOUR EXTINCTION OUR FUTURE!
28 June – 28 July 2013

Plastique Fantastique Communique: YOUR EXTINCTION OUR FUTURE!
PHENOME (= hu-man) quickly-became-ghost: wasted, sunken-eye-and-cheek. Pallor? That-of-wax-ed-fruit. This PHENOME-ghost thinks it is something but can-no-see that it is NO-THING but a HALL-LOOO-SIN-NASHUN (or, precisely, echo-of-a-feedback-loop). And whaoooooooooooo! this old loop can run-and-run… but not for-ever. PHENOME can only spin like an invert-ted-top. An eye it is: spiked on the sharp end of a cone pointed skywards (upright-and-uptight until entropy cools-its-chops… which blows sooner than you think my friend). But NOW, finally, PHENOME-time really is a running out. Yes siree! FINALLY REALLY RUNNING OUT! PHENOME-time not enough to run the infinite space of the (what-is)CLOUD. Too much plug-in. Too much playing with the sticky-icky lube-tube/fuzzy-insertion-slot. Too much connect-connect-connect-connect. Yes siree, TOO many prosthetics broke the back of this poor-old-PHENOME-circuitry.
What next then? NATURAL HISTORY: CLOUD gives birth to new animals. Feedback loop mutates/generates/inverts (less reverb-and-delay, more time-stretch-tool). All filters are visible and all connections are marked for these CREE-TURES (a host of parasites and, FINALLY:NEUROPATHEME). And they shall bring WAR: a war on PHENOME-ghosts until all is dead-and-dusted, until all transparent apparitions are circled, arrowed, filled in, made opaque, redacted.
No winners. Who survives? FUX-OWLING for one. All born flushed-and-unplugged, swimming the continuum, like water-in-water. And NEUROPATHEME no doubt a.k.a. subject-without-experience, all made sticky and ready to receive, ree-kiwired and re-wired, a confirmed neurocentric, bound-and-gagged, spoken-for-and-babel-rush. First NEUROPATHEME redacts the letter 'I' (followed shortly afterwards by all the other vowels). 2ND-GN N-PTH is born, and is first to sing (in a new loop of its own making): YR XTNCTN R FTR!
To accompany the exhibition, the gallery hosted a live performance by Plastique Fantastique entitled All the Fantasies of the People on the 27th of July. All the Fantasies of the People was produced and performed by David Burrows, Simon O'Sullivan, Ana Benlloch, Tom Clark, Mark Jackson, Alex Marzeta, Vanessa Page and Stuart Tait. Footage of the performance is available via Youtube.
Plastique Fantastique is David Burrows and Simon O'Sullivan. It was formed in 2004 and has performed and exhibited in the UK and abroad including 176 Zabludowicz Collection, London; Outpost, Norwich; Apex, Portsmouth; Aliceday Gallery, Brussels and Pratt Manhattan Gallery, New York. They have participated in 'GSK Contemporary' at the Royal Academy of the Arts, London, 'The Chemical Wedding' Tate Britain, London 2008 and the 2010 Tatton Park Biennial. Plastique Fantastique are represented by IMT Gallery.
YOUR EXTINCTION OUR FUTURE! was supported by the Arts Council England